| | |
| --- | --- |
| Our Story | > |
Our journey began with a foal named Maverick. After 360 days of patiently waiting the arrival of Tiara's first foal, the perfect little warm, soft, long-legged bundle of joy arrived at 11:00 PM, June 30th, 2014. Tiara was stressed from what I thought was first time mom nerves. I found out differently later.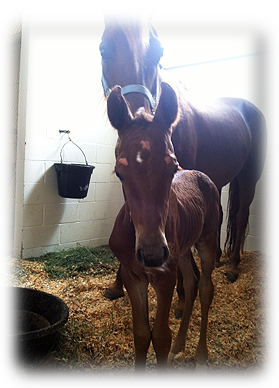 Tiara tried to tell me adamantly that something wasn't right. It wasn't until 4:00 AM when I took the opportunity to check to see if this beautiful newborn was a colt or filly, that I realized that there was a problem.

I called my vet frantically and she helped me stay calm while she was on her way. Dr. Dana guided us in preparing to take Tiara and this precious new baby directly to the Veterinary Hospital nearby. Our colt had a very rare, but fixable, inguinal hernia. Mom and baby spent 5 days in what we now refer to as the 'horsepital', to repair what should have been easily fixed. And it was.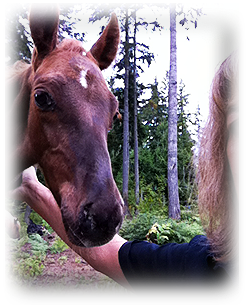 Home we all went and week later, we were back to the 'horsepital' for another 5 days. And home we went again expecting to raise this beautiful colt to be another perfect partner like Tiara. On August 20th, 2014, we lost our beautiful, warm, soft, long-legged Mighty Maverick.

Heart broken and devastated, we longed for our Maverick. Exactly 4 days later, we were on our way to pick up a Yakima Orphan foal. Our choice of two orphans was simple.... we chose the colt they called Maverick, It was meant to be!

Dedicated to our Mighty Maverick, we started Heart Strings for Horses. Our goal is to rescue horses while promoting environmentally friendly equine stewardship.
Click on Pictures to Enlarge